5 Ways to Up Your Email Engagement on the Fly
Email marketers don't always have the time to make major modifications or improvements to current journeys. However, there are several basic strategies you can do right now to enhance subscriber engagement and get some rapid benefits.
Before we go into the specifics, keep in mind that your subscribers are the reason you exist. They are your consumers, so examine how you would want to be treated by brands, apply that thinking to your present communications within your brand vision, consider your goal position, and see whether you're hitting the mark. If you can't satisfy your own standards, you're unlikely to meet those of your clients.
With that in mind, a few easy changes may result in a more engaging communication journey:
1. EVALUATE EVERYTHING! If you're distributing emails but not testing any aspect on a regular basis, you're passing up potential for weekly – even daily – incremental benefits
Subject line testing is one of the simplest tests that produces immediate increases in opens. But don't forget to keep things interesting once they've opened!
Consider your content and main message: is it what they need at that particular stage in their journey? Is it the appropriate material at the appropriate time?
Touchpoints may be either too few or too numerous; how do yours stack up? Have you thrown random touch points because you believe you must have a certain number? There is no secret formula; just test to discover your ideal blend.
2. REFRESH YOUR IMAGERY: Updating and changing a picture in an email may be an easy gain that helps you connect with your customer more deeply
Take into account diversity. With current diversity trends, does your images represent the brand image you wish to promote? Many individuals are concerned about cultural diversity, people of color, LGTBQ and non-binary sensitivity. Is it also crucial to your target audience?
Use visuals to communicate. Is your imagery relevant to the theme of your message and does it resonate with your audience?
On does an excellent job of mixing color and colorful images into this email in order to elicit emotion and relate message to the broader purpose of the email.
3. REVISION + REFINEMENT: Examine your trips as well as the individual performance of each touchpoint. To a point, a natural downward engagement curve is to be anticipated. Is it, however, excessive? Is it at an interesting location?
Analyze data from each touch to determine what is and is not functioning. Sometimes it's straightforward, and a certain piece of text stands out as the perpetrator. Perhaps a touchpoint didn't quite hit home with your target audience.
Customer experience is more than just a trend. Customer experience involves everything from the ease of site navigation to the substance of your correspondence. Do they strike a chord or fall short?
Branding is an important component of the consumer experience that is frequently overlooked while creating content. Sure, you use your brand guidelines, pictures, colors, logo, and so on. But how do you feel about your messaging in connection to your brand? Will your consumers see the material as exemplifying your brand messaging and what they most connect with? How your consumers interact with your brand influences how they identify with it. If they can't see themselves in it, they could start looking for anything that connects with the message.
4. OFFERS + DISCOUNTS: Does your brand routinely give out offers and discounts? Do you always send the same kind of offer? Perhaps it's time to reconsider your strategy.
"Offer Blindness" exists and may occur with repeated sending of the same information and offers. We've all seen retail companies that keep sending the same deal, style, and so on. That may be advantageous to a brand at times, but it is not always the case. Customers expect to see what you're delivering and will not read any stuff you've supplied unless it's new.
Be creative! Perhaps you only have specific sorts of deals available to you. However, you may try presenting things differently. Some sectors may react to dollar amounts off, while others will respond to percentage reductions. Testing, testing, testing!
GIFs and Animations are a simple way to spice things up and entice people to read more.
Caviar sends out offers and other emails on a regular basis, so they do an excellent job of keeping things interesting using GIFs and other interactive animations.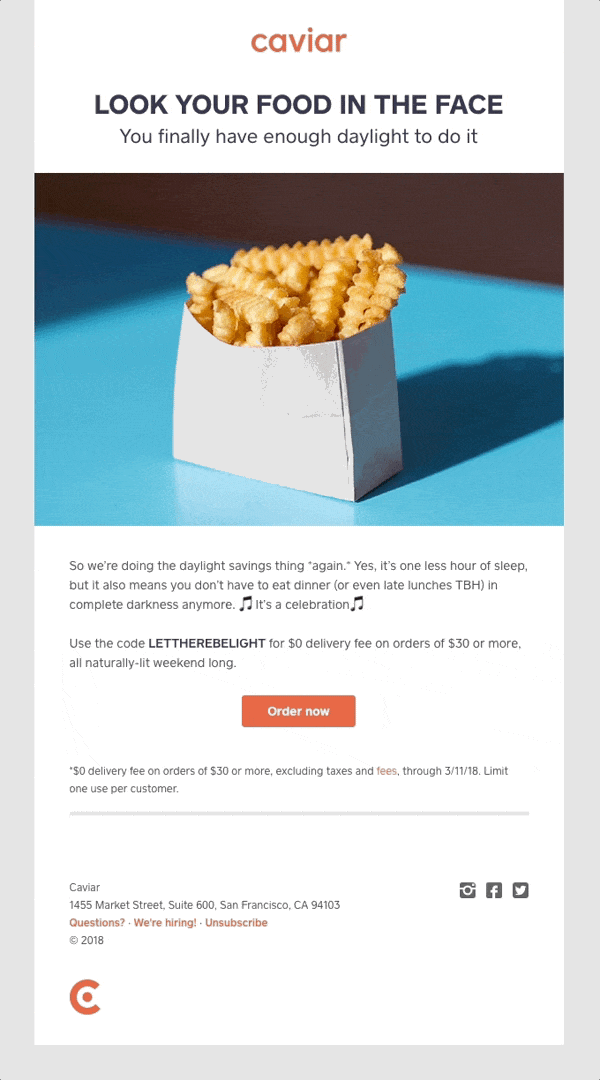 5. ADD-ON MESSAGES: Including a touch outside of a journey may boost engagement and reconnect a consumer with your business.
Consider the seasons! The holidays aren't the only time of year when special messages are required. There are so many, like National Donut Day, National Grandparents Day, and National Dog Day, and practically every day of the year has something linked with it.
Brand new and exciting additions. New goods, offers, and services — everything new or reimagined is a chance to communicate with your consumers.
TIP: Remember to analyze each target segment's habits and drives and tailor the message to the receiver – don't send a message to all of your subscribers if it isn't relevant to them.
Keep in mind that you do not have to implement all of these suggestions at once. Create a test strategy that will change as you learn. Proper planning is essential for marketing success!