Seven Shocking Ways to Sell Your Products Through Email (With Examples)
While this may result in a few purchases, there are other strategies to convert your new product email marketing. Let us have a look at them now.
With AirPods Max, you can take your audio to the next level
The content is brief and provided in a basic typeface, allowing the attention to remain on the wonderful product.

Takeaway
Using high-quality photographs to introduce your new product to buyers is a terrific approach to highlight benefits while also drawing the reader's attention to how well built the product is.
The mullet's midlayer

They check the product launch email and discover that Patagonia is introducing a new jacket that is warm in the front and breezy in the back, similar to a midlayer mullet. The spinning picture of a mullet-wearing guy in the new jacket adds to the product announcement's lightheartedness.
Patagonia's new launch announcement email is effective because it addresses a well-known issue: when you exercise outdoors, you might get heated and sweaty, and when you stop for a break, the perspiration cools you down and you become chilly.
Takeaway
Announcing a new product does not have to be a tedious task. With its witty text and creative, Patagonia crafted an appealing product launch email campaign.
Make Your Email a Magazine Spread
The Chino product introduction email from Anthropologie has magazine-like features. To highlight its new collection, the firm uses attractive email design and creative picture effects. The product descriptions are styled like picture captions, and the writing in brackets adds individuality to each item.
They depict the new Chino line as it would appear on you while out and about, allowing subscribers to think they're currently wearing the collection.

Takeaway
Make your email into a magazine-style article by include photographs that enable recipients to imagine themselves using your items.
Make them fantasize

Peloton excels in displaying their goods where their consumers use them: at home. Instead of employing imagery that might be on a billboard, the fitness company generates visuals that could be in your living room. Each graphic symbolizes a feature of the new Peloton Tread, making it simple for the reader of this product launch announcement email to see themselves using the Peloton.
Takeaway
The most successful photographs aren't always the most slick or styled, but rather those in which your consumers can see themselves.
Provide exclusive early access
If you have a loyalty program, giving your members first dibs on new items is a terrific way to make them feel special while also incentivizing them to purchase. Coach Outlet offers a "Insider" loyalty program, and the subject line of their email immediately makes it apparent that Insiders have first access to a spectacular new collection.

They amplify this sense of exclusivity in the content, which encourages the receiver to "be the first to shop." Coach also adds a touch of scarcity by noting that this new product range is only available in limited numbers.
Takeaway
Offer early access to new items and collections to subscribers or loyalty program members to enhance your engagement with them while motivating them to "be the first."
Don't tell, show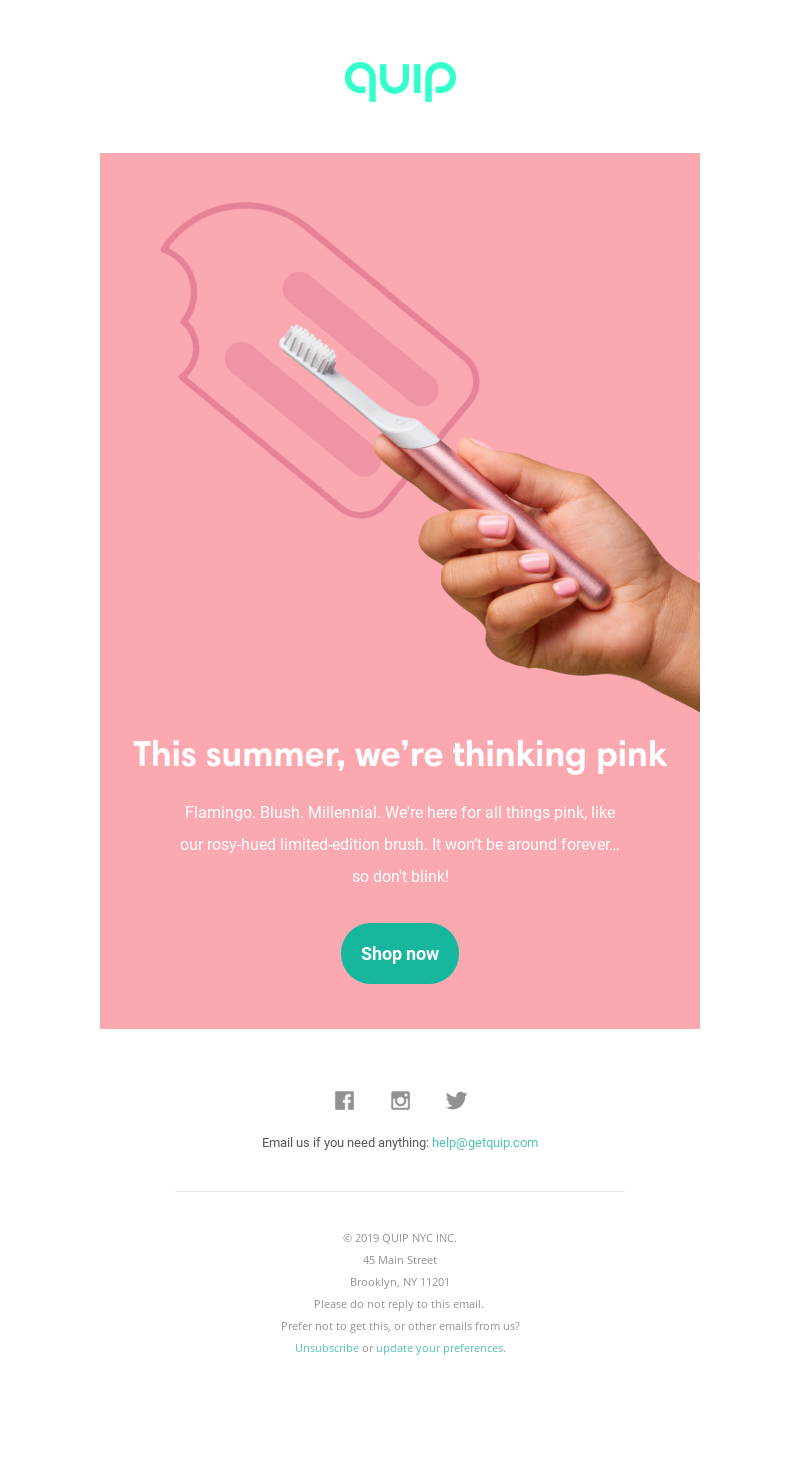 When dental care firm Quip reintroduced their pink toothbrush for a short period, their subject line content emphasized the urgency, but their email text merely conveyed it with a simple animation of a dropping ice popsicle. The visual is evident when combined with the email subject line: if the receiver wants a flamingo pink toothbrush, they should purchase it quickly.
Takeaway
It is not always necessary to use a lot of words to convey an idea. A simple, well-chosen animation may do the same thing, if not better.
Highlight collaboration
Celebrities sell, so creating a product in partnership with someone who is well-liked by your consumers is a terrific approach to give that product a boost.
One such partnership is that between singer-songwriter and producer Pharrell Williams and Adidas. They collaborated on their debut shoe line in 2014 and have been making Adidas designs since then.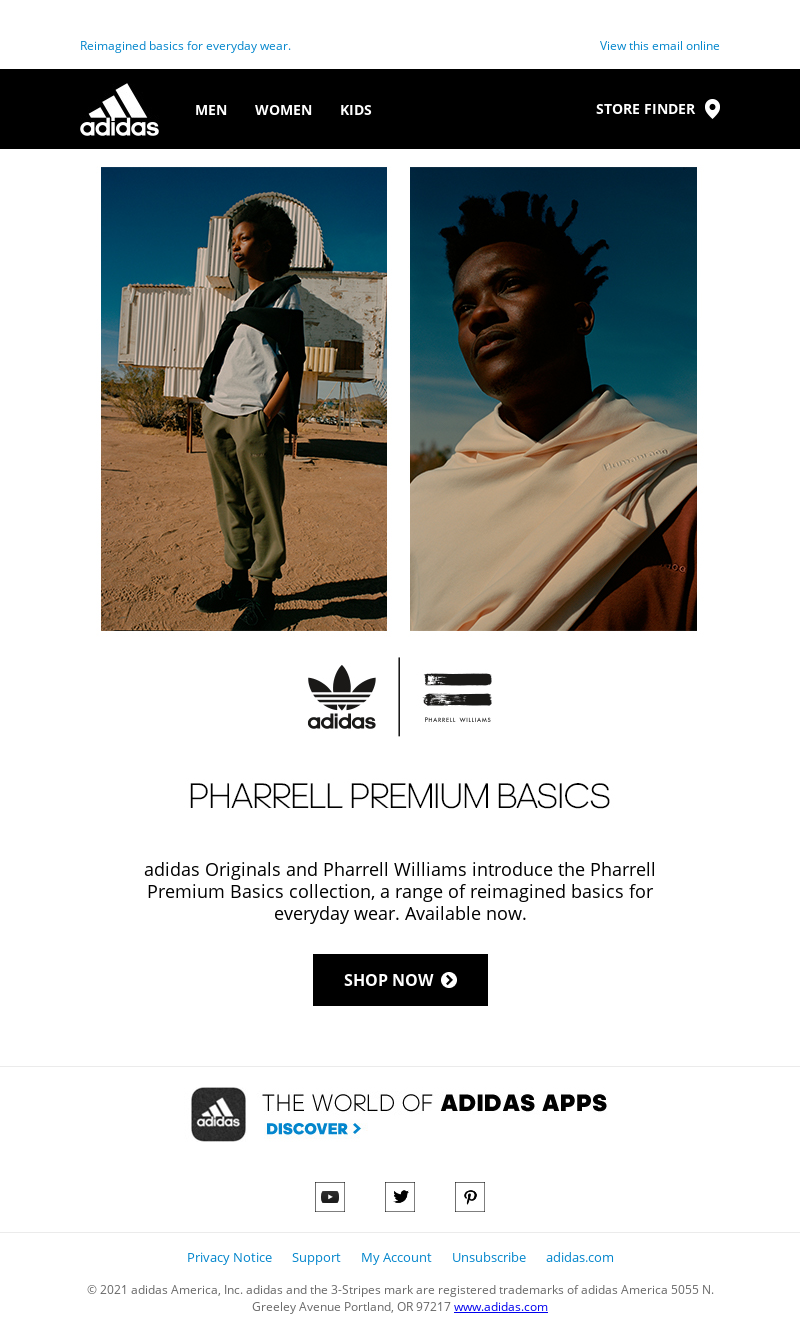 The simplicity of the above product launch email shines out. Two photos, the collection's name, a single text, and a call to action. That's all there is to it, but Adidas understands they have followers who would purchase everything they develop in collaboration with Pharrell.
Takeaway
Collaborate with another business or an influencer you know your target audience like to give your next product or collection a boost.
Conclusion
Content marketing may be difficult. But it doesn't have to be that way. There are several low-cost (and even free) technologies available to help you connect with the kind of material your audience desires. You can have a successful road to gain subscribers and click-through rates by modeling from these designs and adopting best practices.
Check out this video from Brand Creators to learn more about how to compose emails to market your product or service.