Seven Unsubscribe Best Practices You Should Follow Right Now
We've all experienced some kind of breakup. It's never easy to say goodbye, whether it's to a personal relationship or a career. But what if you're attempting to quit a corporation that won't let you go?
A consumer may find this to be a frustrating experience. When it comes to email marketing, though, this does not have to be the case.
Customers come and go, and although it may seem paradoxical, making it easier for them to say goodbye is beneficial to your company. Customers may easily unsubscribe from emails or be removed from contact lists at these firms.
Still not sure that letting employees leave is beneficial to business? Continue reading and we'll persuade you.
Email unsubscribes aren't always a negative thing
Unsubscribes may seem to be bad on the surface. After all, this clearly indicates that they see no value in your email communications, right?
That is not always the case.
Customers opt out of receiving emails for a number of reasons. You might be sending too many messages or have an unidentified formatting problem. On the other side, some of your readers may have unintentionally subscribed to your emails and are no longer interested.
Regardless of the reason, not having these folks on your email subscriber list is really better for your email marketing.
Here are seven unsubscribe best practices to help you make the process easier for your clients while while improving your sending reputation.
Make unsubscribing simple
Customers should already be able to unsubscribe from your emails. It is not only a fundamental aspect of unsubscribe best practices, but it is also mandated by legislation.
Most brands will offer unsubscribe information in the email's bottom. However, if you want to make the procedure obvious and simple for your consumers, put a link in the email header. Gmail will automatically include an unsubscribe option in the header of your emails, so you may as well include it.
This will demonstrate the legitimacy of your business and show them that you care.
TeeChip's email contains a tiny and straightforward unsubscribe button in the email header. This firm also gets additional points for their footer. This part contains information on why and how the consumer became a member of the email list.
Offer to adjust their email settings
There's a possibility your contacts don't want to entirely shut off connection with you. Some clients choose to receive emails rarely or just on certain themes.
You should offer a link to an email preference page immediately within your communications, in addition to an unsubscribe option. Your clients may choose the frequency with which they get emails as well as the subjects they wish to read about. For example, your consumer may not wish to receive marketing communications, but they may be interested in corporate news.
In this case, your subscriber might choose their option using an email preference page.

Inquire as to why contacts unsubscribed
Unsubscribes may help improve list health, but don't be reluctant to ask subscribers why they stopped receiving emails. Just keep your query brief and to the point. A single multiple-choice question is an excellent illustration.
If you use this method, make the survey item optional and follow best standards for unsubscribe emails. This data is significant because it allows you to adjust your marketing efforts depending on the patterns you see.

Give them other methods to communicate
An unsubscribe does not imply that a consumer will never hear from you again. They just do not want to receive your emails at this time.
You should include various ways for people to keep in touch with your brand quietly, such as links to your social platforms on the unsubscribe landing page.
Consider include social media links on your home page, as well as links to your most recent blog post. This is a terrific technique to keep contacts engaged even if they opt out of your email marketing.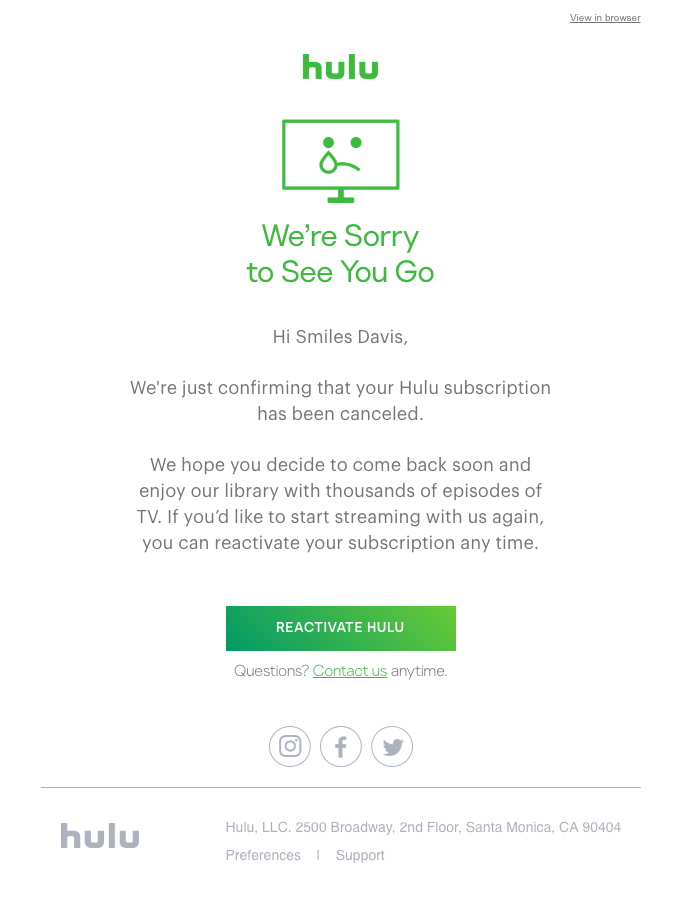 Use a single opt-out method
When getting new subscribers, double opt-in is an excellent technique to boost the quality of your list. Unsubscribers, on the other hand, find it more difficult.
When a contact indicates that they no longer wish to receive emails, do not reply by sending them another message asking them to confirm.
Include a confirmation page as part of your unsubscribe procedure for the greatest results.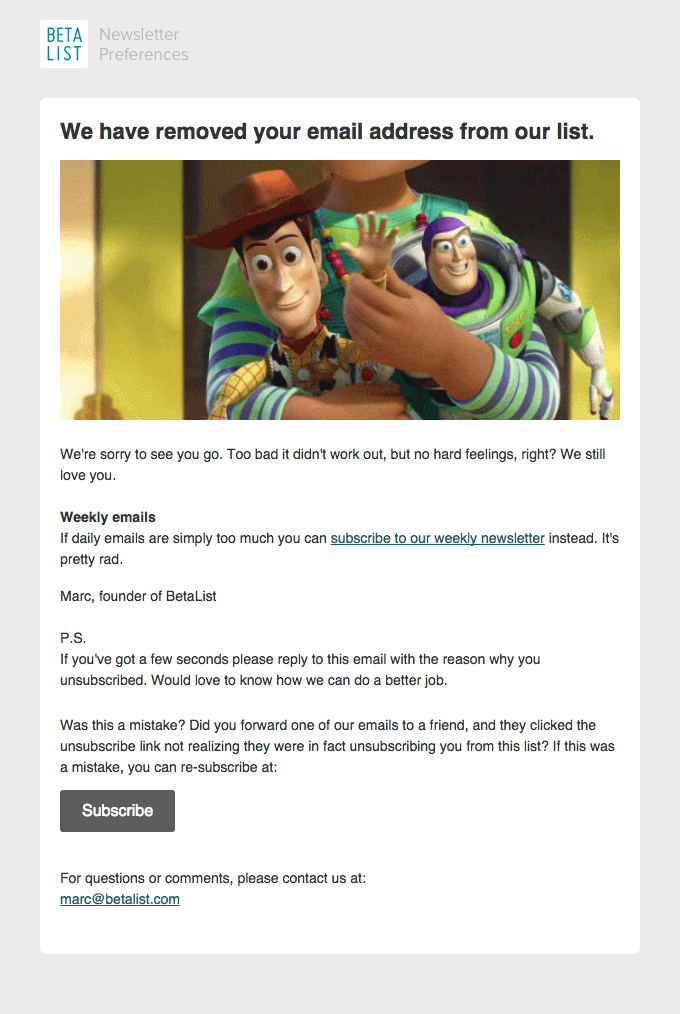 Send an email re-engaging dormant contacts
Some consumers may never opt out. They may be content to discard or never read your emails.
Consider launching a re-engagement email drip campaign to your dormant contacts. This will entice them to change their email choices or unsubscribe, so increasing your marketing analytics.
Offering an incentive is a terrific approach to reactivate your clients.
This email from Jack Wills informs consumers that they have been missed by giving a discount on their next purchase. However, as a secondary CTA, the email includes a huge unsubscribe option.

This email from Jack Wills simply informs consumers that they have been missed by giving a discount on their next purchase. However, as a secondary CTA, the email includes a huge unsubscribe option.
To clean your list, you don't even need to run a re-engagement campaign. Inactive users may be unsubscribed from the backend.
Consider this clever Sidekick unsubscribe email, which nudges users to make a decision:
It describes the cold subscriber procedure in layman's words, and this email notifies users that their email address has been removed off the list. Rather of providing a CTA to unsubscribe, the email CTA here is to stay on the list.
This strategy is effective since disinterested subscribers are not required to do anything. Readers who take action, on the other hand, are more likely to be involved in the future.
Conclusion
You should not be concerned about unsubscribes. After all, some degree of list churn is normal. Unsubscribes will often increase your email marketing success. However, keep the following unsubscribe best practices in mind:
Make unsubscribing simple.
Make your email options editable.
Include an optional one-question survey to determine why someone unsubscribed.
Make innovative methods to stay in contact.
Select a single-opt-out format.
Unengaged contacts may be released by sending an unsubscribe email.
It's critical to provide your consumers the choice to unsubscribe from emails if they're no longer interested. You can make this process as simple as possible for your clients by adding obvious unsubscribe buttons in your emails, as well as straightforward procedures on a landing page to delete their email addresses from your list.
If you continue to provide excellent customer service even after a contact has left, they are more likely to return when they need your product in the future.